Good luck with the tour John Thomson
Claire Sweeney & John Thomson in...
John Godber's bittersweet comedy September in the Rain
Directed by John Godber
Wishing my nephew all the best for his upcoming tour!
Break a leg John! Good luck with le' tour! Uncle C x
BRICKWEB (@brickweb) July 30, 2013
http://­www.­atgtickets.­com/­shows/­september-in-the-rain/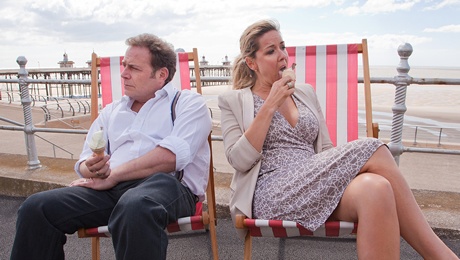 September in the Rain charts the life of Yorkshire couple Jack and Liz through their annual summer holiday jaunt across the Pennines to Blackpool, which has been a ritual for over 40 years. It's the golden age of donkey rides, talent contests, saucy postcards, stripy deckchairs, ice cream, rolled-up trousers and knotted hankies.

John Godber's hilarious comedy conjures up this lost world so vividly you will almost feel the sand in your socks and hear the rain bouncing off your pac-a-mac.

Follow the journey of Jack and Liz as they dip in and out of time recalling their first holiday as newlyweds, to their last, as OAPs, sharing memories filled with tears and laughter, fish and chips and wet and windy promenades in September.